You know that secret dream you have to be a contestant on the Amazing Race?  Yes, I'm talking to you, armchair quarterbacks of Over-The-Top-Reality-Race-Shows.  Give praise and thanks to creators Larry & Bob for their string of immersive races known as LARF® (aka LA Race Fantastique®).  These guys have been cooking up races for corporate events and Angelenos since 2005 and even have an Amazing Race in Cozumel for cruise ships.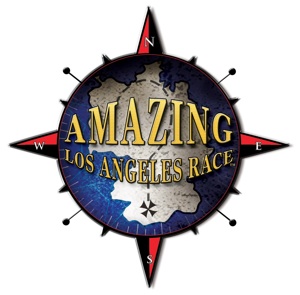 At its core, LARF is a scavenger hunt and a sort of location-clue-based puzzle, but it is more aptly described, as their website puts it, "like the 'Da Vinci Code,' 'The Amazing Race,' and 'National Treasure,' but instead of watching it, you're actually living it."   Having participated in several races with my team Scooby Snacks, I can attest to how addictive, exciting, and totally fun this race can be.
So, okay, what is LARF really?
LARF consists of a series of clues.  The clues can be anything from puzzles to actors to destinations to engravings on statues.  As they say on their website, "...these ain't your mamma's clues. They're tricky, sometimes very tricky. Not only that but often you won't even know what they are; the trick may be in actually finding the clue."  There are no directions & there are no rules.  The team with the best finishing time is crowned the winner.  Our team, Scooby Snacks, has both lost miserably (our first race: LARF Happy Fun Race) and won handily (LARF can't Marry) and will still go back for more.  LARF produces a unique race about once a year ranging from Charity races to Disney Races to Celebrity Races.  Your first race can be a little crazy, but once you get the hang of it, the experience is legendary.
Ninja Tips
I recommend a team of FOUR.  Two just isn't quite enough and past four you end up with way too many cooks in the kitchen.  You are also driving all around town, so bigger team equals bigger car or worse... cars, and we all know what parking in LA can be like.  So, four is usually optimal.
If you want to just get your feet wet there are weekly races billed as "extreme sight-seeing tours of Los Angeles." This is a great way to see the city of L.A. and RACE at the same time! There is the Amazing LA Race and there is the Amazing Santa Monica Race that run weekly.  You can sign up on their website or sometimes you can score discount tickets at Goldstar Events.
If you like it and want more...
Ready for the BIG RACE...?
Well, you're in luck: there is a new original race on Saturday June 25, 2011.  Be forewarned/excited: It is an ALL DAY AFFAIR.  This one is the AMAZING GOURMET FOOD TRUCK RACE. You can imagine the antics and adventures that this will take you through.  If you think you are ready for the challenge - sign up here - it's $60 a person and you will get fed... a la food truck.
These guys only do ONE original race a year... because they literally spend all year planning it.  It is that intense.  Good luck, and maybe I'll see you at the finish line.