W
hen reaching for a little tipple, it is best to imbibe with style. For the saucy and sauced, we have compiled a gift guide for the fun loving lush to liven up their bar cart with a few lavish essentials.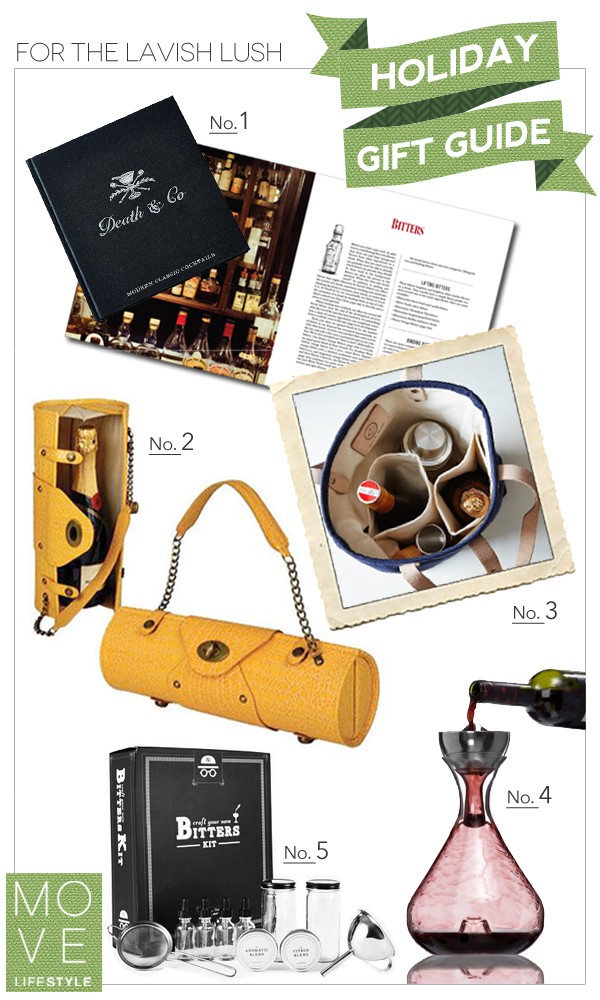 Beautiful inside and out, the Death & Co Cocktail book is a compendium of cocktails and the history of the renowned cocktail bar that bears its namesake. Anyone who has interest in the modern craft cocktail movement will be interested in the stories and recipes recounted by David Kaplan and Alex Day, plus the linen-covered book will look gorgeous on any bar or coffee table.
A woman's purse is often called upon to do the heavy lifting, housing everything from lipstick to flip flops to your boyfriend's sunglasses. But how often does it get to party with the rest of us? Why bring a flask in your back pocket, when you can throw a whole bottle of wine in your wine purse? "Surprise! I've got wine in my purse!" You'll never get tired of saying that. I promise.
Taking the party with you? Forget about throwing your cocktail arsenal into a shopping bag or cooler, when you can arrive-in-style boasting this cocktail tote that fits your tools, shaker, and two bottles. Perfect for any guy or gal, this custom built tote will get you laid faster than any wingman.
This decanter has a built-in aerator, which helps speed up the process of exposing your wine to air, which is why wine is decanted in the first place. Adding a touch of elegance to your dining room table, this glass beauty was made by the people who brought you the Rabbit Wine opener, which has been helping people get drunk faster for 30+ years.
A master in the kitchen and at the bar, your Secret Santa pick will be ready to bottle their own signature bitters, complete with Microsoft Paint labels bearing their Cheshire grin and pun-filled slogan. Help them on their merry way with this kit to take their cocktails to the next level.

More Gift Guides from Move LifeStyle